This weekend we went for our first hike of the year! We went to the Echo Mountain Loop, a 5.6 mile trail with about 1700 feet of elevation gain in Altadena: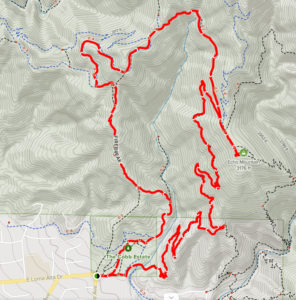 This seemed like a relatively doable hike to me, although it was rated "hard" on AllTrails so Amparo had reservations about it. Unfortunately it did turn out to be a difficult hike for us, but partly that was due to the fact that we got lost for an hour at the start of the hike because we made a wrong turn. I followed what looked to be a trail, but it ended up dead-ending into a bunch of bushes and we had to turn back. We nearly threw in the towel and started to head home, but we decided to give it one more try to find the correct trail, which we did manage to do the second time.
We went clockwise on the route shown above, due to the recommendations on AllTrails by other hikers who said it would be easier to go that way instead of counter-clockwise. This turned out to be correct, because the trail running along the section marked "Firebreak" was a brutal uphill climb that would have been very difficult to do coming downhill. But after we surmounted the Firebreak section, the rest of the hike was much more manageable and for the most part it was downhill.
The first half of the hike was mostly devoid of other hikers, but once we got on the trail heading towards Mount Lowe there was much more traffic on the route. We wore our face coverings to help mitigate COVID spread, and probably 2/3 of the other hikers were also wearing masks. Since the start of the pandemic, I've taken to doing the "hold your breath as long as possible" maneuver whenever I can't avoid passing within 6 feet of another person while I'm out in public. I don't know if this has any scientific merit, but I suppose it's worth a try. So far we haven't caught COVID, so I'm going to take it to mean that my weird personal rituals have been effective so far, so I'm going to keep doing them!
The route towards Mount Lowe used to be part of a railway that ran from Pasadena up to an alpine retreat owned by Thaddeus Lowe called the Echo Mountain House. Along the way there were several historical plaques with information and pictures about the railway:
Once we got to Mount Lowe itself, there wasn't much left of the Echo Mountain House since most of it had been burnt down or torn down to its foundations since they stopped running the railway line in 1937. There were still a few large pieces of rusted equipment lying around though:
After checking out the ruins for a bit, we headed down echo mountain back towards the trailhead at the Cobb Estate, following multiple switchbacks with a very low grade. The streets were full of parked cars from other hikers and trail runners at that point, so we made a quick stop by a grocery store to get some Agua Fresca and then headed home to rest and relax for the rest of the day! Hopefully the rest of our hikes this year go more smoothly at the start than this one. Lesson learned though, we'll check the route on our phone apps at the start to make sure we're staying on course when the way is unclear next time…