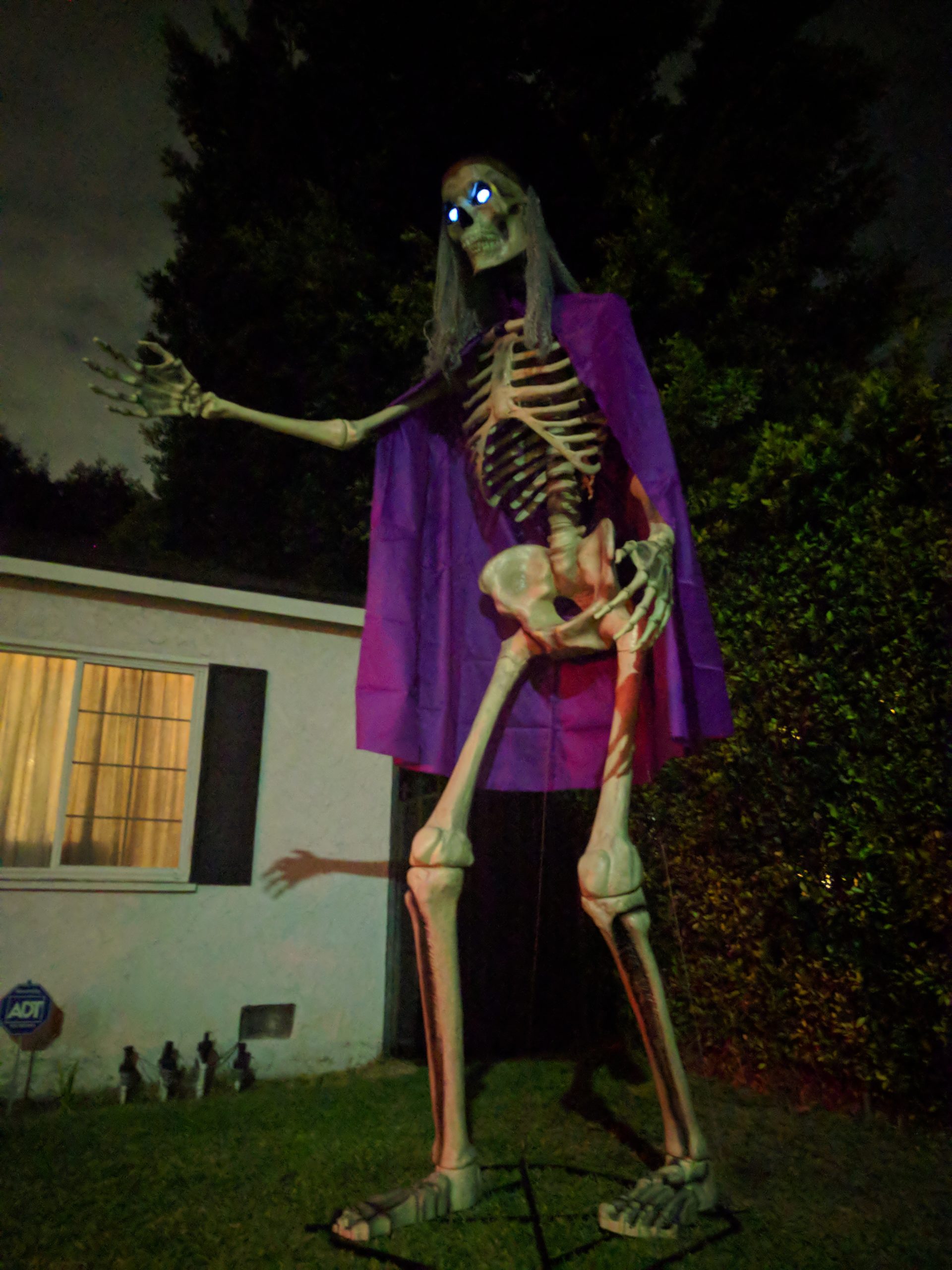 I was originally going to make a few separate posts for the stuff I've been up to in October, but the month went so quickly that I didn't have time to post any updates! So I'm going to just do a roundup of all the things we did during October this year.
Trip to Albany
Right at the start of this month (actually also the end of September) I took a trip to New York to visit some friends! They had just recently bought a new house in Albany and moved there, although they had lived in Connecticut already for a while. This was my first time in New England during the fall, so I was excited to see what kind of seasonal activities were on offer! I quickly learned that fall in Albany centrally revolves around one thing: apples.
We visited a nearby farm, and I got to sample some apple cider donuts and also do some apple picking! I don't know how I missed out on apple cider donuts my entire life until now, but they were really quite delicious! We also went to a carved pumpkin display at night, where the pumpkins were illuminated with lights:
I quickly discovered that the apple cider donuts were a recurring theme at all the seasonal events in New England, as they were also available at the pumpkin display (as well as hot apple cider). The following day, we also visited another family-friendly farm, but this one had a lot more kid-friendly activities which was good for my friends' daughter who was almost two years old. There was also a train which we could ride that went past several halloween decorations, and there were some farm animals that the kids could interact with as well:
We also went up into the Adirondack Mountains to try to spot some of the trees with more colorful leaves, since it was still a bit early in the season for them to be widespread across Albany. We did spot a few trees, but mostly it was still too early to see a lot:
While we were in the mountains, we stopped at a German restaurant for dinner that we stumbled upon, but it ended up being quite good! The next day, we went to a cidery and tried a variety of hard ciders:
It was a pretty awesome trip, and I'll definitely be looking forward to coming back again in hopefully the not too distant future! I think I barely scratched the surface on things to see and do in Albany, so there should still be plenty of cool things to see next time I go there.
Halloween Horror Nights
After returning to Los Angeles, the following week I also went to Halloween Horror Nights at Universal Studios! Amparo doesn't like to be scared so she didn't go, but my friend Weecho came along and we had a pretty great time! For Halloween Horror Nights, they swap out the normal rides and attractions at Universal for horror-themed mazes and other attractions.
Throughout most of the park, there are also actors dressed like monsters wielding things like chainsaws (without the chains) who try to sneak up on people and rev them really loud and get people to scream. The monster makeups on the actors were really impressive, and definitely more at the movie quality level than you'd typically see at other haunted houses! While we were there, we went through mazes based on the Halloween movies, Texas Chainsaw Massacre, The Purge, and also Bride of Frankenstein. There was also a Dia De Los Muertos themed plaza which sold food and drinks, and another food vendor near the Texas Chainsaw Massacre that sold massive 22″ hot dogs. Of course, I had to buy one and try it!
Jared and Cassie's Wedding
Later in the month, we also attended wedding for my friends Jared and Cassie! They actually had a wedding ceremony on our front lawn in front of our 12 foot tall skeleton last year, but due to pandemic restrictions they couldn't have the wedding they originally planned for in Texas in 2020. So this year, they were able to move forward with their wedding and have a more complete celebration with family and friends! We flew to Houston beforehand to visit family, but then drove to Austin for the wedding during the weekend.
The night before the wedding, Cassie's Aunt and Uncle put together a nice dinner that we attended, and they had a really cool Halloween candy snack bar set up on the patio! The wedding had a gothic New Orleans theme to it, and the wedding itself was held at a rustic venue with a barn nearby in Driftwood, Texas. On Sunday, we had some extra time before our flight later in the evening so we met up with my friend Brian from high school, who now lives in Austin. We also went up to the UT Austin campus to just walk around for a while and check things out: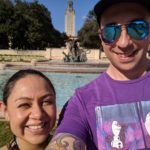 Unfortunately our flight back to Burbank got delayed by three hours, so we ended up getting home really late Sunday night. But it could have been worse I suppose, at least it wasn't canceled entirely!
Disneyland and Halloween
For the final weekend of October, instead of going somewhere else to spend time with friends, some of Amparo's friends came to visit us! We took them to Disneyland and California Adventure, which was a blast with all of the fall decorations set up throughout the parks:
One of Amparo's friends also had her five year old son with her, so on Halloween itself we carved some pumpkins with him and also took him trick or treating! The rest of the evening, we sat out in the front yard and handed out candy to other trick or treaters:
Things were definitely much busier on Halloween than last year, there were several large groups of kids and parents who came by the house to get candy. We decided to use our candy chute again, just to be as safe as possible due to covid. The kids actually seemed to enjoy it, since it was kind of fun for them to try to catch the candy as it came out the end of the chute.
And that brought an eventful October to a close for us! It seems like every year the calendar gets pretty full, but it was still a wonderful Halloween season! I left out a few things we also did last month (such as our Logetober movie screenings), but this post is plenty long enough already so I'll draw things to a close now. Until next time!