About a week ago we made another visit to the Huntington Gardens! We had visited there earlier during the pandemic, but hadn't been back since last summer. The Huntington Library and Gardens are a really beautiful place that happens to be only a few miles away from where we live now in Pasadena. It reminds me a lot of the Dallas Arboretum where we got married in 2019, but possibly even nicer in some ways. During the pandemic, the buildings are all closed due to social distancing protocols, but the gardens remain open by appointment. Despite the buildings being closed, I feel it's still worth a visit! The gardens are huge, with several different areas dedicated to different regional styles.
This time we focused our time on the Japanese and Chinese Garden areas, which we found to be one of the best areas of the gardens during our previous visit. There are several large ponds in the area stocked with koi fish, and also plenty of ducks enjoying the water.
Another thing I really appreciate about our visits to the gardens during this pandemic is the attention they've paid to social distancing, requiring masks for visitors even though everyone is outside. Also, the management has marked certain paths as uni-directional if they aren't wide enough to allow a buffer of space when passing other people.
A cool addition we noticed this time is that they have scattered bonsai trees around the gardens with additional information about the tree displayed on plaques. They also handed us an informational pamphlet about the bonsais, which mentioned that some of the trees where over 500 years old! This was mostly the juniper bonsai trees, the one pictured below was much younger: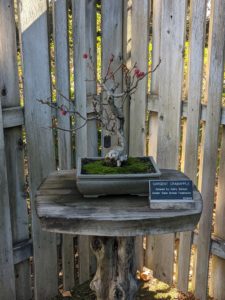 In all, it was a very enjoyable and safe way to spend the day during this pandemic, which is hard to find right now during the current surge in cases in LA County. Hopefully as the weather starts to warm up a bit we'll be able to get out and do some more hiking, and find some other ways to pass the time until everyone is vaccinated. Now I'll leave you with a few more fun pictures from the garden!